BOOX
Features:
1. It is an enhanced version of Note Air2. The hardware configuration is basically the same as Note Air2, including CPU, RAM and ROM. The biggest difference is that the battery is increased to 3700mAh, and the power performance is unexpectedly much stronger;
2. The fuselage has an additional magnetic design, which can be used with exclusive magnetic sleeves;
3. The fuselage mold and electromagnetic pen are all changed to the new color Pine Green (Pine Green);
4. Dual-color reading frontlights, Andriod11, Qualcomm 662 processor, G-Sensor, 4GB RAM+64GB ROM, all configurations are available, it can be regarded as a cost-effective choice for a 10.3-inch open system e-reader.
JC's Short comments: Note Air2 Plus has good performance, good writing experience, excellent battery performance, appearance and workmanship is also a instant choice, but it is one level cheaper than Tab Ultra. If you do not pursue the best refresh performance and large capacity, Note Air2 Plus can be said to be the most cost-effective choice among the current 10.3-inch open system e-readers.
Regular price
£459.99 GBP
Regular price
£479.99 GBP
Sale price
£459.99 GBP
Unit price
per
Sale
Sold out
Share
View full details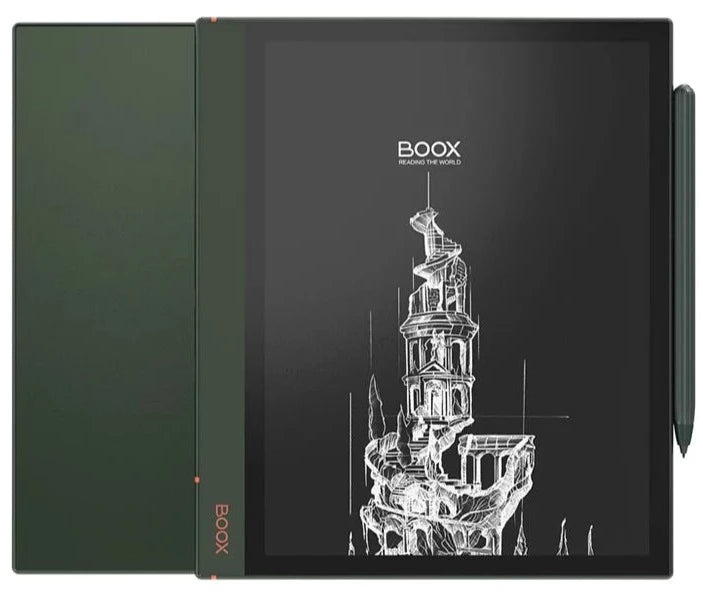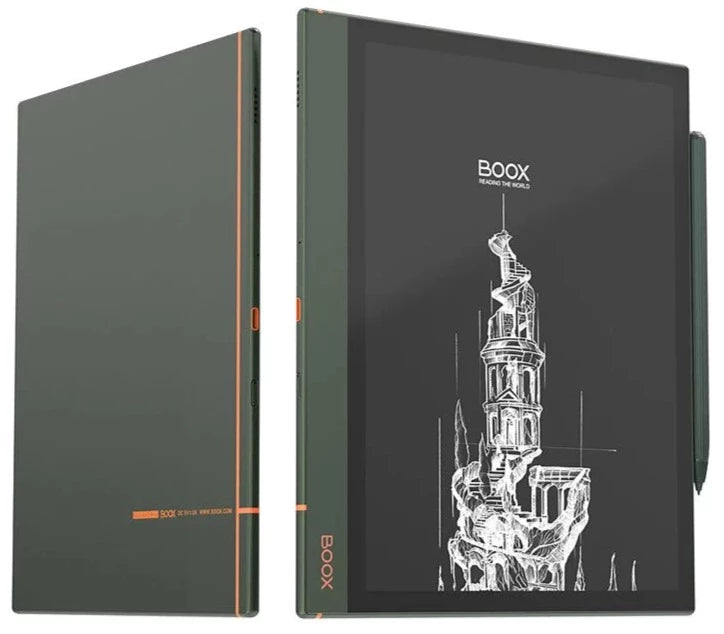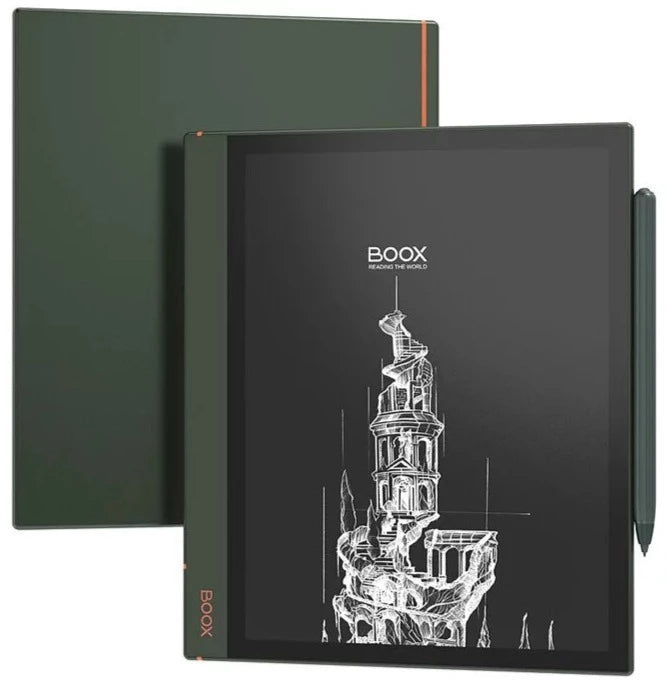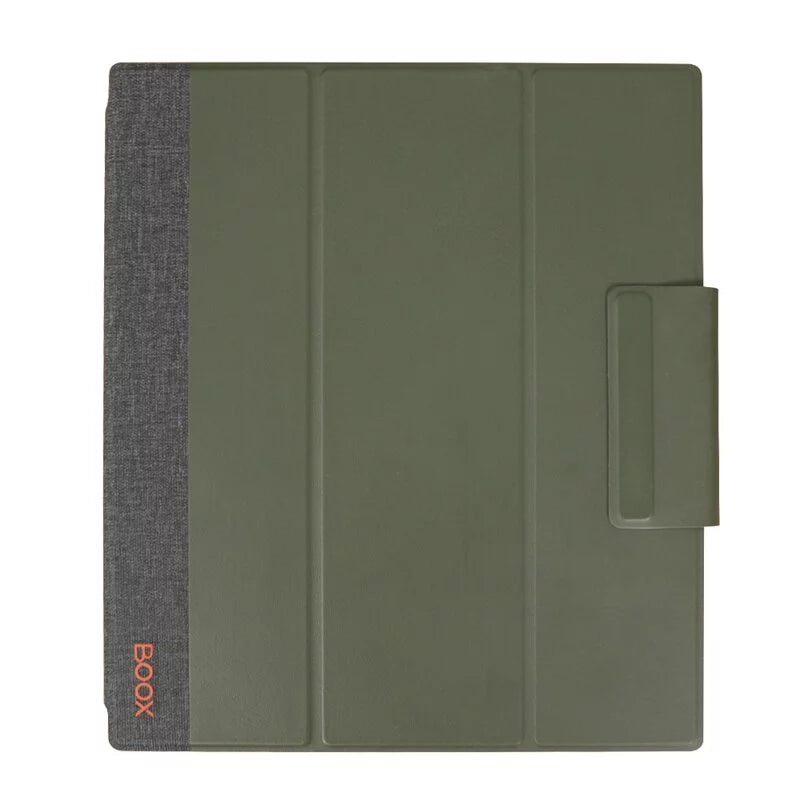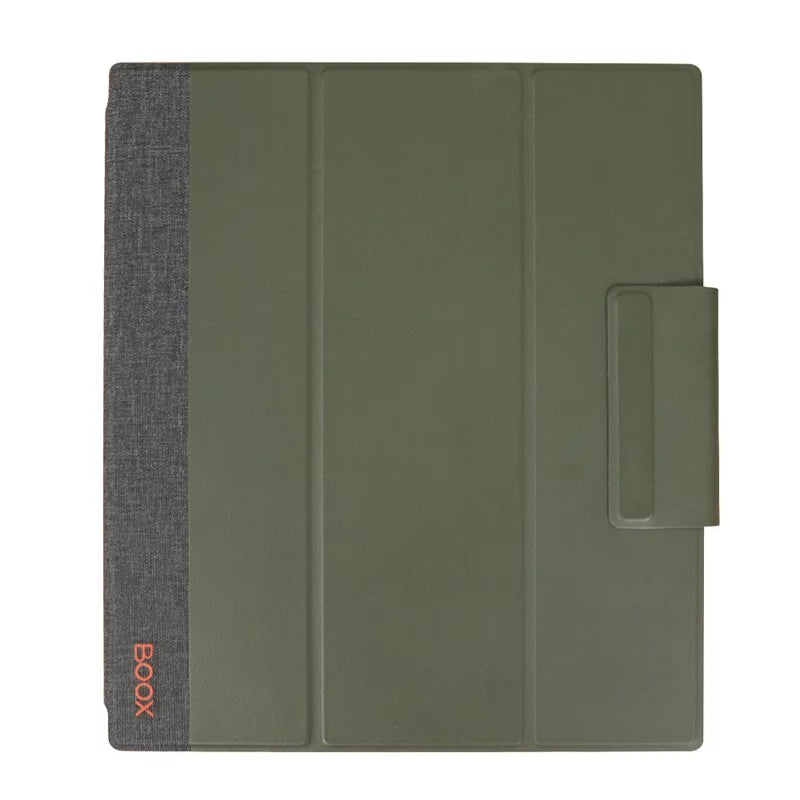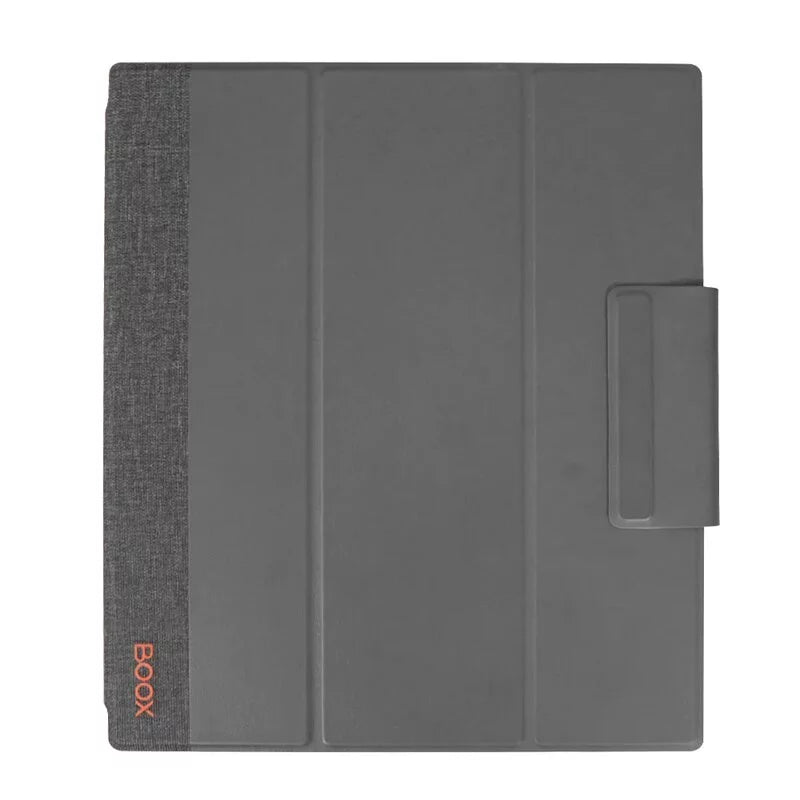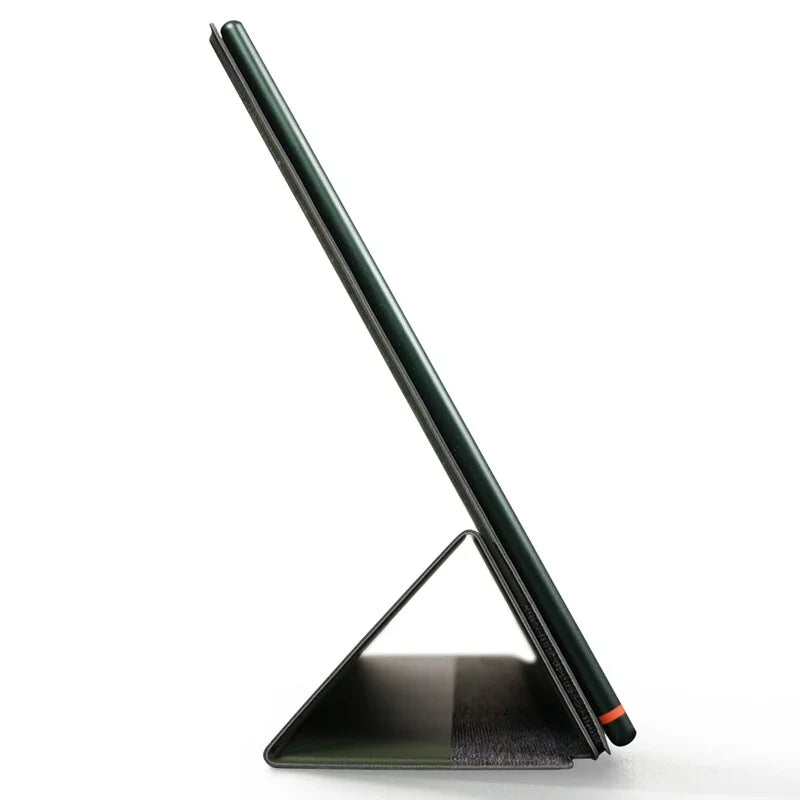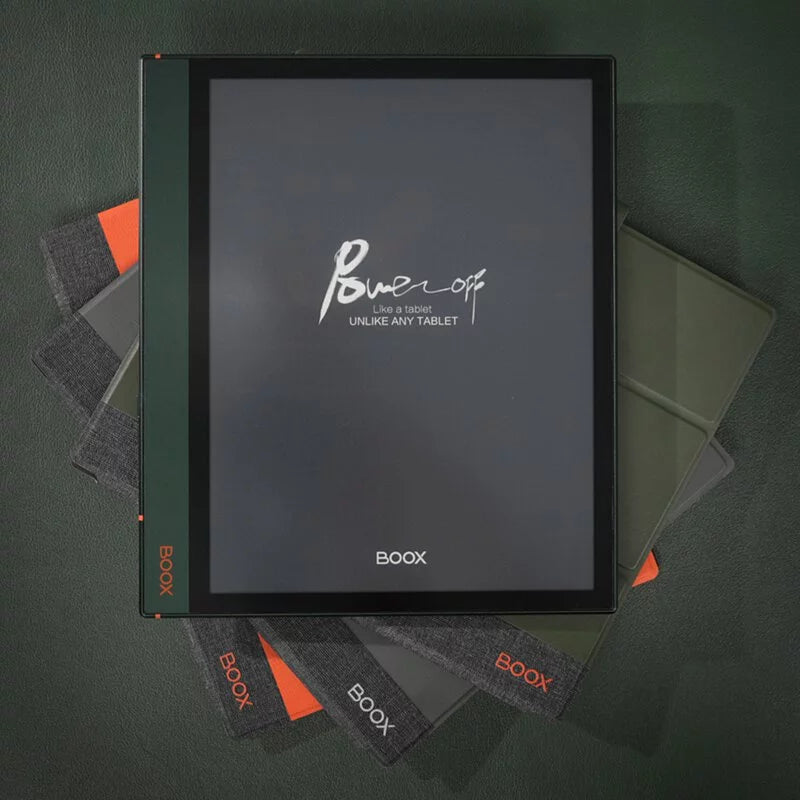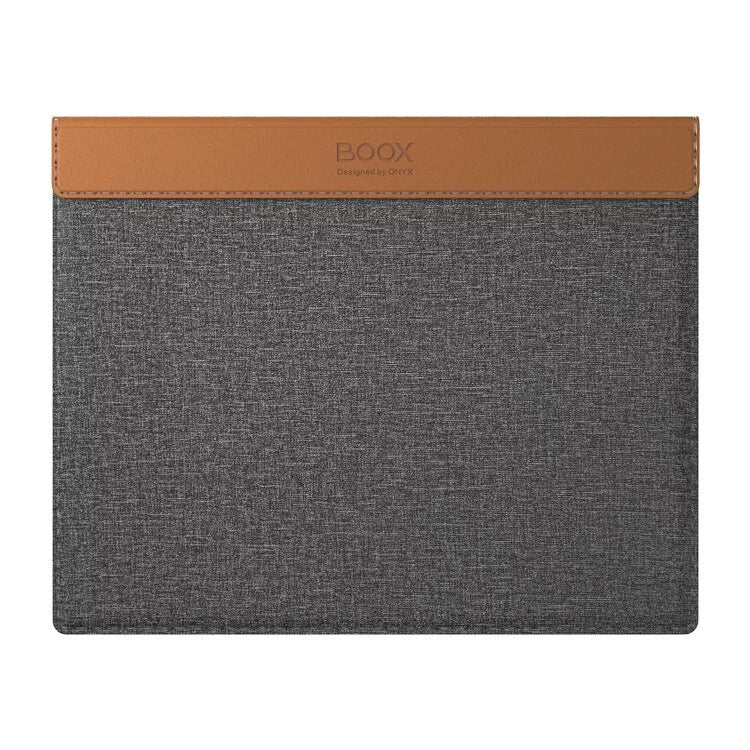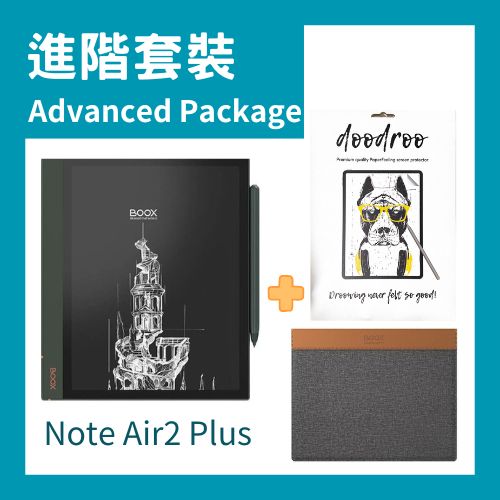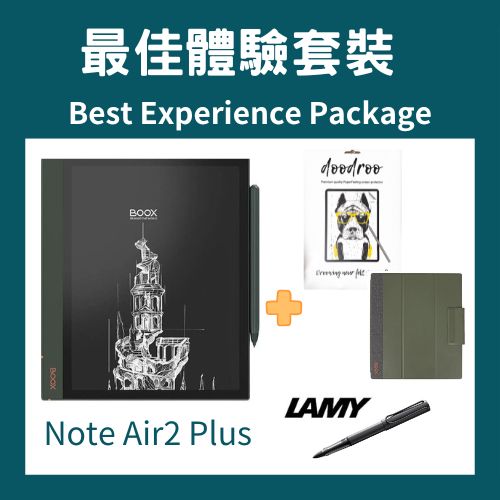 Collapsible content
Product Description

BOOX NOTE AIR2 PLUS is your work partner, also provides entertainment

2022 BOOX Note Air2 new upgraded version: BOOX Note Air2 Plus 10.3-inch e-reader, which perfectly replicates the high performance of BOOX e-readers, increases battery capacity, and extends battery life. The unique retro dark green black with orange embellishment highlights the temperament even more. The magnetic back cover design makes reading and carrying more convenient.

Ergonomically operated e-reader, using the latest Android 11 open operating system, you can use Google Play to install a variety of Android applications, you want to note, draw, read, it can fully play a powerful task processing function.

Equipped with G-Sensor gravity sensor, automatic steering can be set to easily switch between vertical and horizontal reading. Combine e-book and e-note functions, combine your profession, and extend multiple uses; Equipped with E-Ink flat-screen high-definition ink screen, the front screen reading light source can adjust the color temperature according to the environment, effectively reduce the damage caused by blue light, and reduce the use of 3C for a long time The fatigue of the device, no glare even in the sun, makes reading more comfortable.

Not just a reader, but also an efficient learning machine

BOOX newly upgraded Neo Reader 3.3, supports multi-format files, PDF can also be easily read, combined with note mode; double-open file multitasking, writing and reading, keyword search; with BOOX Pen Plus electromagnetic Wacom stylus, ultra-thin The nib can create rich detail. Not only underline and note, but also strengthen your memory.

Built-in various small utility programs and multi-language support, adding smooth new X high-speed refresh technology, easily integrated into your life; only 445g light, even used in various occasions can be easily used: travel, meeting, study, Presentation, sketching, etc., left or right, no matter which hand can also be easily operated with one hand.

Connect your infinite possibilities

The latest high-performance specifications, equipped with Qualcomm Snapdragon 2.0 GHz octa-core CPU, 4GB RAM and 64GB ROM, responsive and smooth; equipped with Bluetooth device, easy to match peripheral devices; built-in microphone and amplifier, not only for reading, but also for listening Books and voice input improve work efficiency and create your infinite possibilities.

Wi-Fi (2.4GHz 5GHz) ultra-fast transmission, network connection and file transfer, get rid of annoying transmission lines, and create your wireless life. Built-in high-efficiency multi-function connection Type-C port, 3700mAh battery life without interruption. Equipped with an OTG expansion device, the maximum support is 512GB, and it is more convenient to transfer files and exchange data.

Boutique-level aesthetic design, more enjoyable reading

BOOX Note Air2 Plus 10.3-inch e-reader is built with high-quality and exquisite workmanship. The body is made of aluminum alloy, with an ingenious color design, improved texture, light and thin, and insists on perfect corner details. The appearance is smooth and elegant, and it is easy to hold very good. Ergonomic design and well-designed color matching Two contrasting colors presented in the aluminum back shell will add a more stylish design sense to your reader.

Write faster on OneNote / WPS / Evernote notes

Support a variety of third-party APP applications. Even drawing and writing in different apps can be done easily. The split-screen function of the APP allows you to take notes while watching the video, which can easily improve the learning efficiency.

Supports more than 20 document file formats

unleash your creativity

Provide more powerful built-in tools: layers, canvases, templates, etc., to stimulate your various imaginations.

Magnetic Stylus

BOOX Pen Plus Electromagnetic Wacom stylus, extremely thin tip can create rich details. Not only underlining and note strengthening your memory.

excellent protective case

Put it in the bag and read a good book anytime, anywhere.

The open system has strong compatibility and can install a variety of e-bookstores

Built-in BOOX bookstore, the reader can easily load the software you want through Google Play, and you can install Kobo, HyRead, Book.com.tw, Readmoo, National Library, Hami, Pubu and other e-bookstore applications to easily load the software you want, Allows you to browse a large number of books without leaving home.

An open system tailored for Android 11

A framework with a higher degree of freedom, richer components, personalized interaction and functional experience. You can create your own reading world as you like.

Not only readers, but also wired and wireless connections

Strong compatibility, it can be connected to Type-C external wired devices through the built-in efficient multi-function, and can also cast screens wirelessly, and expand wireless devices through Bluetooth.

Product Specifications

Size: 229.4 x 195.4 x 5.8 mm

Weight: about 445 g

Color: Dark Green Black Display: 10.3-inch HD Carta flat glass screen Resolution: 1404 x 1872 (227ppi)

Front light: 32 levels of cold and warm dual color temperature Touch: Electromagnetic + capacitive dual touch Processor: Octa-core 2.0 GHz (Qualcomm Snapdragon 662)

Memory: RAM 4GB + ROM 64GB

Operating system: Android™ 11

Wireless transmission: WiFi (2.4GHz+5GHz)+Bluetooth 5.0

Port: Type-C

Battery: 3700mAh rechargeable lithium polymer battery Supported file formats: pdf (up to 2G), djvu, cbr, cbz, azw3, doc, docx, epub, fb2, html, mobi, rtf, txt , chm, zip

Supported image formats: bmp, png, jpg, jpeg ,bmp, tiff

Supported audio formats: WAV, MP3

Contents: reader x1, stylus x1, warranty book x1, manual x1, transmission line x1, protective sticker x1 (attached)

Origin: China Warranty: One year warranty for non-human damage Intimate reminder: This product is an electronic instrument, please read the instruction manual carefully before use. Contains a lithium battery, please recycle or dispose of the waste product properly.
Protective Case Description

The magnetic tri-fold magnetic case, which is compatible with the Note Air2 Plus, provides sturdy and secure protection for your device. It may also be folded into a handy stand with auto sleep/wake functions.

【Sleek design】The case is made up of two parts: a rough fabric spine and an artificial leather cover with a smooth finish. Their mix highlights a modern look for an ePaper tablet.

【Sober colors】Available in pine green and galaxy grey, the case demonstrates professional taste and can merge well into business/school environments.

【Smart Sleep/Wake】When you close or open the magnetic case, your devices will go into sleep/wake mode.

【Two-angle support】When folded back, the case can support the devices from two different angles. As a result, you may use them comfortably while reading or taking notes.

【Convenient magnets】You can quickly attach the Note Air2 Plus to the case and use it right away. The magnetic flap helps keep the device and stylus from falling off.

Please note that n

ote-taking may be hammered if the

magnetic flap is flipped to the back.

Physical display and introduction of protective cases (04:53 - 07:02)

JC's Review

Boox Note Air2 Plus unpacking, appearance introduction and specification analysis──What is the difference between "I" and Note Air2? (CC English Subtitles)