BOOX
Features:
1. Tab Ultra is an overseas limited model, the CPU uses Qualcomm 662, and is equipped with a self-developed independent display chip, the refresh rate is 50% faster than that of the non-Tab series, worthy of the name of the tablet;
2. Equipped with a 16-megapixel rear camera, which can be used to scan documents/classwork, which is exclusively owned by the overseas version;
3. The included Pen2 Pro with rubber tip is included instead of the basic version of Pen Plus without rubber tip;
4. RAM and ROM are 4+128GB, support TF card (maximum 2TB);
5. Andriod
version is 11, it has been certified by Google and has a Google store when it is turned on;
6.
With G-Sensor, it supports automatic steering;
7. There is an exclusive magnetic keyboard leather case (need to be purchased separately), focusing on productivity;

JC's Short comment: If you have enough budget, the most worthwhile model to buy in the 10.3-inch size should be the Tab Ultra. Suitable for users who pursue extreme speed/productivity.
Regular price
£499.99 GBP
Regular price
£559.99 GBP
Sale price
£499.99 GBP
Unit price
per
Sale
Sold out
Share
View full details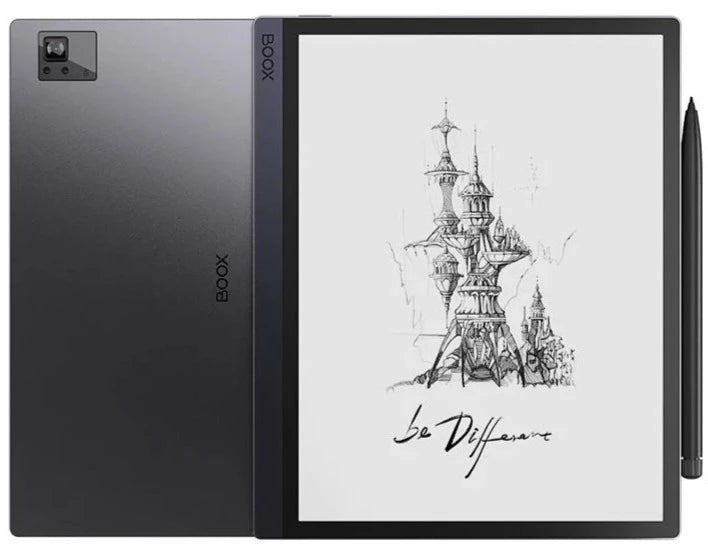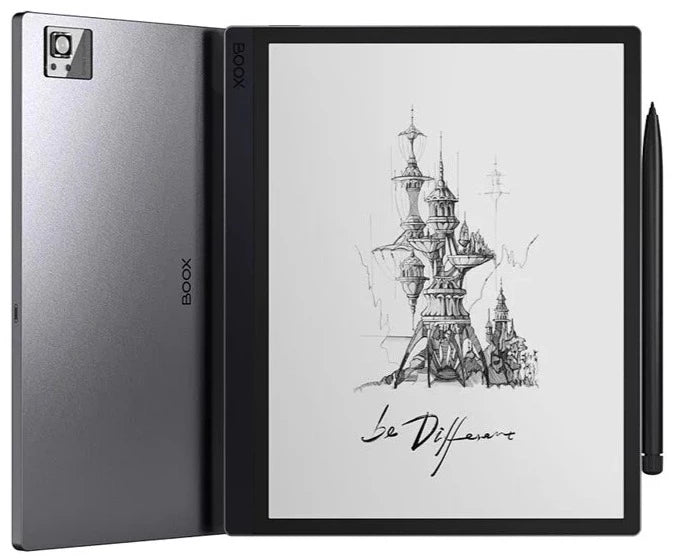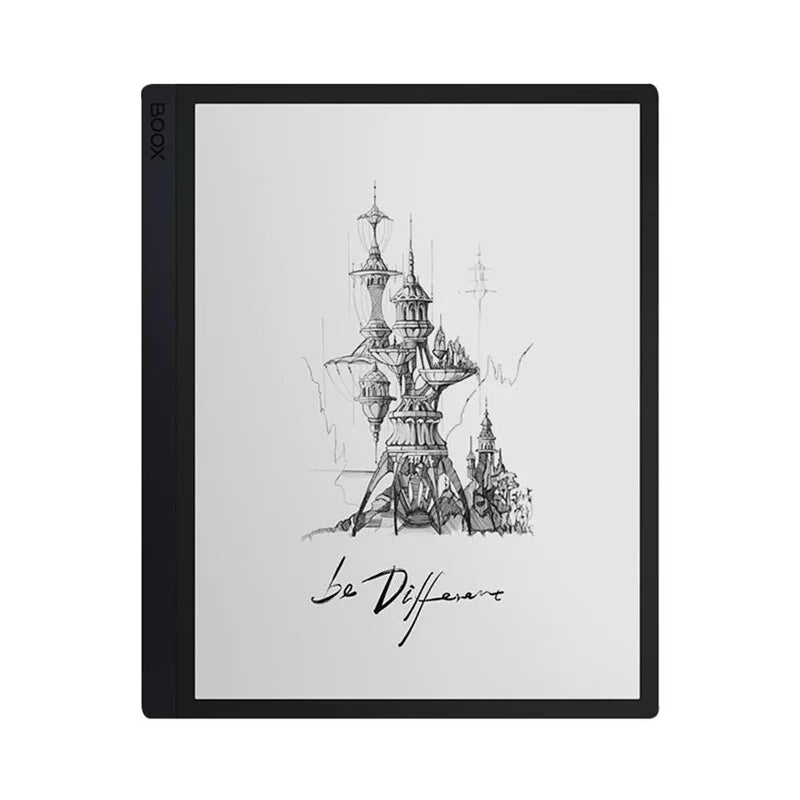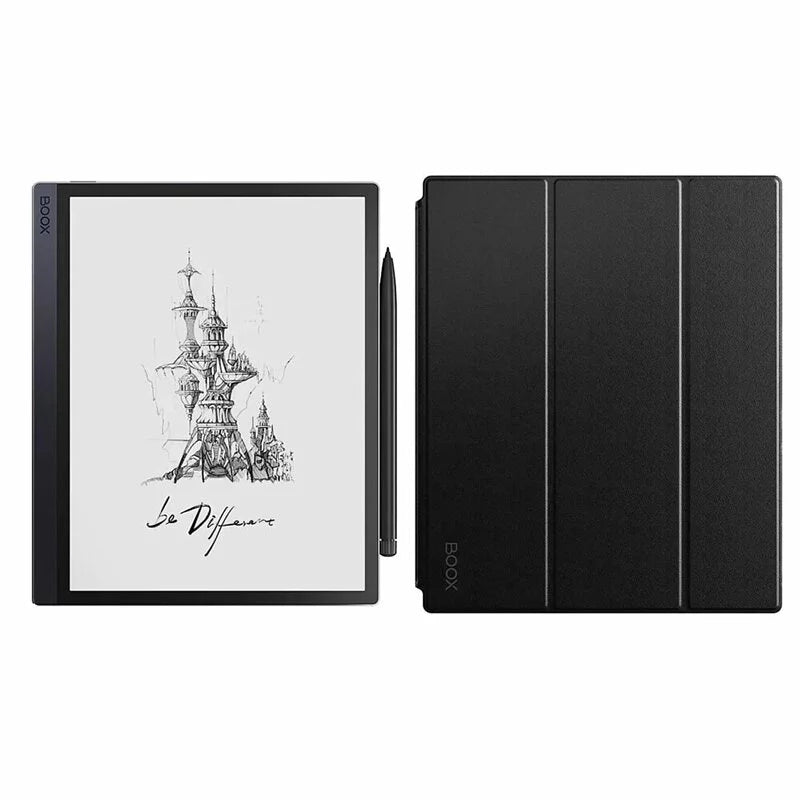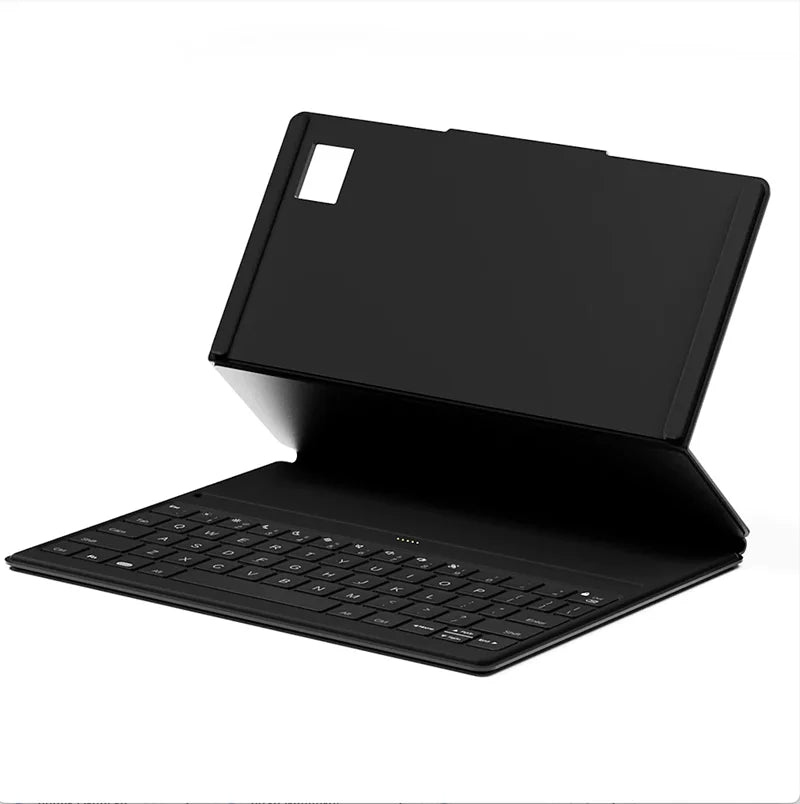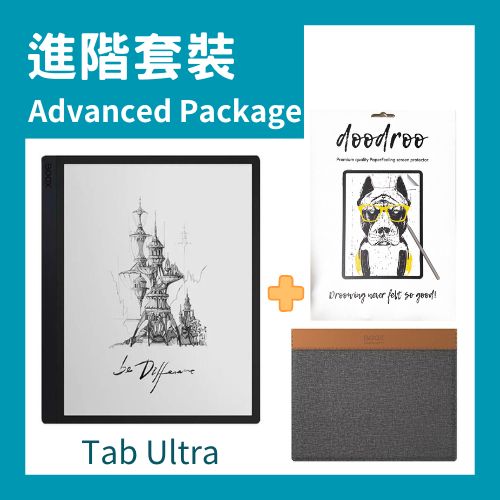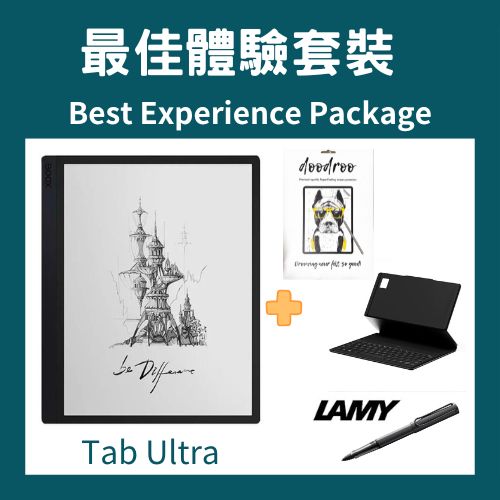 Collapsible content
product description

BOOX TAB ULTRA Professional business people have a calm taste and improve efficiency for busy business

2022 BOOX Tab Ultra brand new design, smart and excellent performance: BOOX actively pays attention to the needs of users, continues to focus on the display screen, and develops a new super refresh technology, coupled with a unique GPU image display, equipped with Qualcomm octa-core The CPU greatly reduces afterimages and improves speed, and the clear electronic paper technology and high work efficiency provide users with a better experience.

Tab Ultra is the first BOOX e-reader to add a camera function. The large screen is equipped with a 16-megapixel rear camera lens, making it easy to scan documents and files. Just turn on the camera, click scan, save, and immediately open and share with your friends Or colleagues, share through third-party applications, simplifying the workflow and fast and convenient. The body is made of strong and durable aluminum alloy, using phantom black, a variety of colors will appear from different angles, the right-angle frame and reduced borders make reading and vision more clean and tidy.

Text and pictures are as if printed directly on it

The BOOX Tab Ultra 10.3-inch e-reader is equipped with an E-Ink Carta HD flat-screen electronic ink screen, which has a new contrast ratio of 30%, 227 PPI retina-level clarity, and more delicate text and picture content; the touch layer has been reduced by 50%. Bring content closer to the screen. If you look closely, you will find that the glass screen on the top has a higher degree of adhesion, and the text is closer to what you see with your eyes, just like seeing real paper, and the touch sensitivity is also improved. The optimized light source uniformity of the front screen reading light can adjust the color temperature according to the environment, effectively reduce the damage caused by blue light, and reduce the fatigue of using 3C devices for a long time. Even in the sun, there is no glare, making reading more comfortable.

Open ANDROID 11 system, supporting more APP applications

With the Google Play Store, you can install a variety of Android applications, and you can take notes, read, and listen to books, and it can also fully exert its powerful task processing functions. It adopts the open Android 11 system, supports more APP applications, and can load and retrieve books across platforms. Install a variety of dictionaries, support multiple languages, support custom installation, full-text translation, sentence annotations, instant translation, and fast presentation. It is a good helper for your study!

Within reach Extremely thin and easy to carry New trends in reading and writing

BOOX newly upgraded Neo Reader 3.3, supports multi-format files, PDF can also be easily read, built-in various widget programs and supports multiple languages, install books, comics, audiobooks and other APPs at will, and easily integrate into your life; Portable with a weight of 480g and a thinness of 6.7mm, it can be easily used in various occasions: travel, meeting, study, exhibition, sketch, etc. The built-in G-Sensor gravity auto-rotation can automatically detect the e-reader Horizontal conversion, convenient for both left and right hands.

Connect to your infinite possibilities wherever you are

The latest high-performance specifications, equipped with Qualcomm octa-core 2.0 GHz CPU, 4GB RAM and 128GB ROM, responsive and smooth; equipped with Bluetooth device, easy to match peripheral devices; Aragonite BOOX Tab Ultra 10.3-inch smart e-reader, built-in microphone and expansion The audio device can not only read books, but also listen to books. Voice input improves work efficiency and creates your infinite possibilities.

The new technology Wi-Fi 5GHz speed transmission, network connection and file transmission, get rid of annoying transmission lines, and create your wireless life. Built-in high-efficiency multi-function connection Type-C port, 6300 mAh battery can be charged quickly and continuously, equipped with OTG expansion device and microSD (TF) memory card expansion, the maximum support is 2TB, and it is more convenient to transfer files and exchange data.
Product specifications

Model: Tab Ultra

Size: 225 x 184.5 x 6.7 mm

Weight: about 480 g

Display: 10.3-inch HD E Ink Carta flat electronic ink screen

Resolution: 1872 x 1404 (227 ppi)

Front light: 32 levels of cool and warm dual color temperature

Touch: Electromagnetic capacitive double touch

Processor: Octa-Core 2.0 HGz (Qualcomm Snapdragon 662)

Memory: 4 GB RAM LPDDR4X + 128 GB ROM

Operating system: Android 11

Wireless transmission: WiFi (2.4 5GHz 5GHz), Bluetooth

Port: Type-C (support OTG)

Battery: 6300mAh rechargeable lithium polymer battery

Memory expansion: OTG (maximum support 512G), micro SD (TF) memory card expansion (maximum 2T)

Supported file formats: pdf (up to 2G), djvu, cbr, cbz, azw3, doc, docx, epub, fb2, html, mobi, rtf, txt, chm, zip

Supported image formats: bmp, png, jpg, jpeg ,bmp, tif

Supported audio formats: WAV, MP3

Contents: Reader x 1, Stylus x 1, Warranty Book x1, Manual x1, Transmission Line x1, Card Picking Needle x1

made in China

Warranty: one year warranty for non-artificial damage

Intimate reminder: This product is an electronic device, please read the instruction manual carefully before use. Contains a lithium battery, please recycle or dispose of the waste product properly.
Cover introduction

Keyboard Stand Case : BOOX case is made of imitation leatherette with soft surface and elegant black color. The back is hollowed out to accommodate the camera. It's easy to use and has a sophisticated, stylish look for the modern workplace.

Folding Stand Flip Case : Can be used from two angles; 120-degree viewing mode and 12-degree writing mode.

Case unboxing and introduction (14:13 - 22:00)
Ning Xinshe Review

BOOX Tab Ultra unpacking, appearance introduction, specification analysis and exclusive protective case (thin and keyboard type) introduction (CC English Subtitles)


Boox Tab Ultra Detailed Review (Part 1)──Is the first-time lens useful? Interface overhaul?



Boox Tab Ultra Detailed Evaluation (Part 2)──Can it run "Genshin Impact"? no problem! All-rounder with clear strengths